Team Altona Named Best in State for the 2016 Verizon App Challenge!
A team of 7th and 8th graders (see below) from Altona Middle School just won $5,000 in the Verizon Innovative App Challenge for creating the best app concept of all middle schools in the state of Colorado! Check out their concept video here: https://vimeo.com/146573406
Now help Team Altona win the nationwide App Challenge Fan Favorite Award and another $15,000 by texting DICTION1 to 22333 by January 31st.
If Team Altona earns the most votes, our school will win another $15,000 and the Altona students will get to work with MIT experts to build their concept into a working app! They will also win an all-expenses-paid trip to the TSA conference in Nashville, Tennessee, in June 2016.
Please help us spread the good news and vote now!!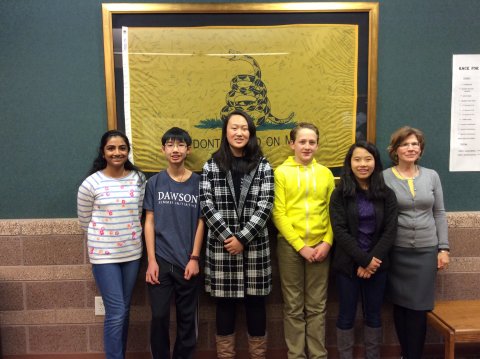 (From left to right: Advika Jayanti, Jeffrey Hew, Carolyn Qiu, Sterling Gardner, Rachel Su, & Mrs. Mollie Kelleher)