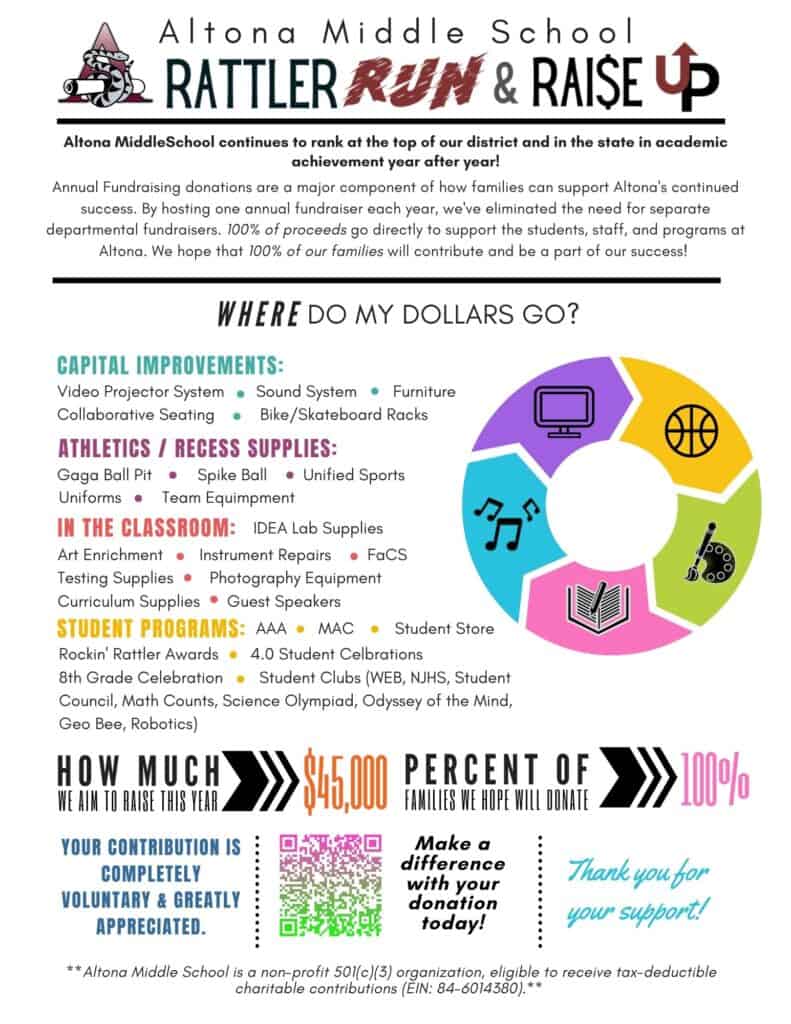 We are excited for the return of our big FUNdraising event of the year, our second annual Rattler RUN & Raise Up!! On September 16th, all students will participate in the RUN in the morning as a grade level, and we ask that parents and community members help us with the RAISE-UP through September 19th.
All student participants must have a signed agreement for participation in the Fun Run, which may be signed online here. If you would like a paper copy, please contact the office. Please note that this must be signed by September 15th for your student to participate.
Our community has always been extremely supportive of our school, and we hope this new fundraising format will make it easier for everyone to contribute. Our goal is to host one annual fundraiser each year and eliminate the need for separate departmental fundraisers. A percentage of the proceeds from our annual fundraiser will go directly to support the entire school, including all of our performing arts programs. Your no-frills contribution will go 100% towards the students, staff, and programs at Altona. It's as simple as that! If you are able and comfortable, please contribute and be a part of our success!
About the run – all students will participate in the run/walk during the school day during their elective period. The course will be on campus and include multiple obstacles, including inflatables, challenges, and bubbles!! An alternative path will be available and all challenges/obstacles will be optional for students throughout the race.
Our goal this year is to raise a minimum of $45,000. The more we raise, the better we can support and enhance the student experience at Altona! As an incentive, if we reach our goal, all students at each grade level will be invited to a celebratory party in the afternoon on September 16th with music, food, ice cream, games, and more!
We are encouraging each family to please consider making a donation of at least $25.00 per student; however, any contribution will help support our school. If you would like to make a bigger difference, please consider increasing your donation on behalf of those who are currently unable to give.
The best way to make a contribution is to donate online through RevTrak. Altona will receive 100% of your donation automatically, and you will be emailed a receipt within minutes.
Students, please check out the suggested email template that you can use when sending emails to your friends and family about this fantastic opportunity!
Cash and Check donations will also be accepted in the main office. Checks should be made payable to Altona Middle School and returned with the slip below. Community members can also mail in donations to the main office at 4600 Clover Basin Drive, Longmont, CO 80503.
In past years, Altona has been able to use fundraiser dollars to purchase the following items:
Chromebooks, 3D printers, a laser engraver, STEM Equipment
Video Projection System for Rattler's Den
Classroom curriculum
Student rewards and recognition through the Altona School Store
Robotics and photography equipment
New furniture and collaborative seating for our building and various classrooms
Awards and recognition items for students (Rockin' Rattlers)
Sponsorship of student programs like Science Olympiad, Odyssey of the Mind, Math Counts
Coverage of instrument repairs and the purchasing of new instruments for Band, Orchestra, and Choir
Fees for guest speakers
Classroom supplies for all grade levels including technology and innovative equipment
Altona Middle school is a non-profit organization and your contribution is tax-deductible and may be eligible for employee gift matching programs. We encourage you to check with your employer to see if they offer any gift matching programs.
Thank you for your generous contribution and continued support of Altona Middle School!