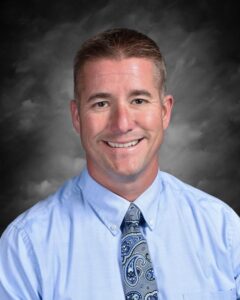 Title

Assistant Principal

Phone

720-494-3980

Email

Department

Administration

Bio

Mr. O'Hair has been serving in public education for the past 18 years.  Travis holds a B.A. degree in Biology from the University of Northern Colorado and an M.A. degree in Administrative Leadership and Policy Studies from the University of Colorado at Denver.  Before working at Altona Middle School, Travis began his career teaching science and STEM courses at Skyline High School, where he helped to develop the STEM Academy and create a partnership for students with the University of Colorado at Boulder.  He was named the STEM Academy coordinator in 2010 and became the STEM Academy Director in 2012.  Mr. O'Hair then moved on to help develop the Innovation Center of St. Vrain Valley Schools, which is dedicated to providing innovative and real-world partnerships for students. 

Travis is now currently in his 9th year of working at Altona Middle School, serving as an Assistant Principal. During this time, Mr. O'Hair has helped in the development of Altona's very own IDEALab maker space, the creation of highly successful Computer Science and Robotics programs, the development of a Virtual Reality program pilot for St. Vrain Valley Schools, and worked with a team of teachers, parents, and students to receive recognition as a 2021 Colorado Trailblazer School to Watch.  Mr. O'Hair also takes great pride in supporting our highly successful and award-winning performing arts programs that over 60% of our students choose to participate in.  At Altona, our community values strong systems that allow teachers and students to take risks, feel challenged, explore and succeed.

Outside of education, Mr. O'Hair enjoys spending time with his wife Alayna, and their five children, enjoying the outdoors and playing competitive baseball. Follow Travis on Twitter @AltonaAP.